STEPS TO PAY BY GRABPAY INSTALMENTS
Step 1: Choose the items you want to purchase and click the CHECKOUT page.
Step 2: FIll up your necessary details and click CONTINUE TO SHIPPING.
** If you have problems reaching to the next page which is the Shipping Option page, please clear "Cookies and other site data" and "Cached images and files" under your browser settings or use another device to try again and it should work fine **
Step 3: Choose your shipping option and then click CONTINUE TO PAYMENT.
Step 4: Choose GRAB BUY NOW PAY LATER as your payment option then click COMPLETE ORDER.
Step 5: You'll be redirected to the Grab App or Page and from there you click in your registered mobile with Grab to log in.
Step 6: Choose Pay in 4 Instalments and complete the order by just making the first Payment and your order will be delivered to you in due time :)
ACTIVATING PAYLATER ON GRAB

Before activating PayLater, you first need to verify your ID (if you haven't already). Once completed, you'll have access to full features of your GrabPay Wallet (including GrabPay Card). Open your Grab app, and get it done in just a few taps.
Not activated yet? Just follow these steps on your Grab app.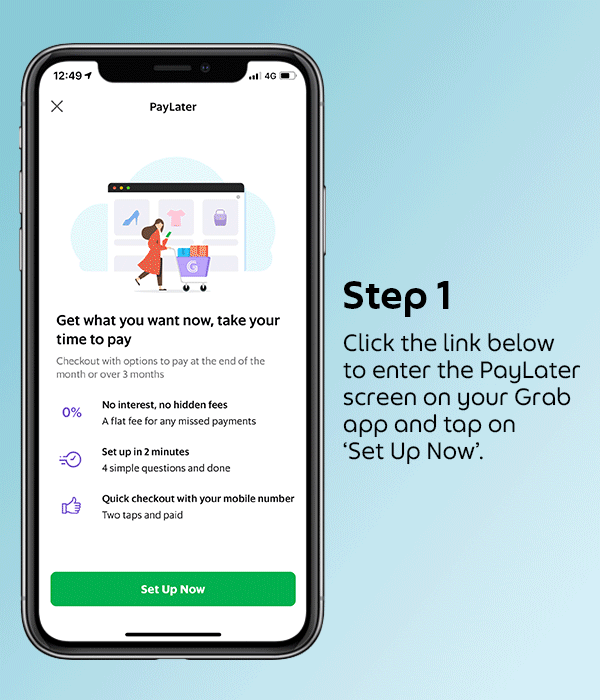 *Activation can only be done on mobile. Open your Grab app and select 'PayLater' under the Payments tab to activate.
Click HERE for more Grab PayLater common FAQs.